One of the most valuable and sought after works of art on the Hawaiian islands. You're not just investing in a work of art. You're curating stories. South Sea Arts only uses surfboards that have been abandoned along the fabled seven mile miracle of the North Shore Oahu, boards that have washed ashore, battered by the tumultuous pacific sea. What is of no longer of use to the wave riding Hawaiians of this side of the island is reborn as treasure in our studio.
The surfboard's patina, with all the hard-earned dings, dents, bumps, bruises and surf rust, is preserved and honored. Those are the details that keep the surfboards stories alive. Gecko expertly carves into the foam revealing the rest of the story hidden in other areas. Its like a collaboration that was never anticipated with the original shaper who gave it birth. From there, the board's history and continuing life unfolds.
Hundreds of hours go into each creation, with the artist working tirelessly until the board tells him when it's done. No story is ever the same. No board is ever the same. And if the board calls to you, it is meant to be in your home, and your home alone.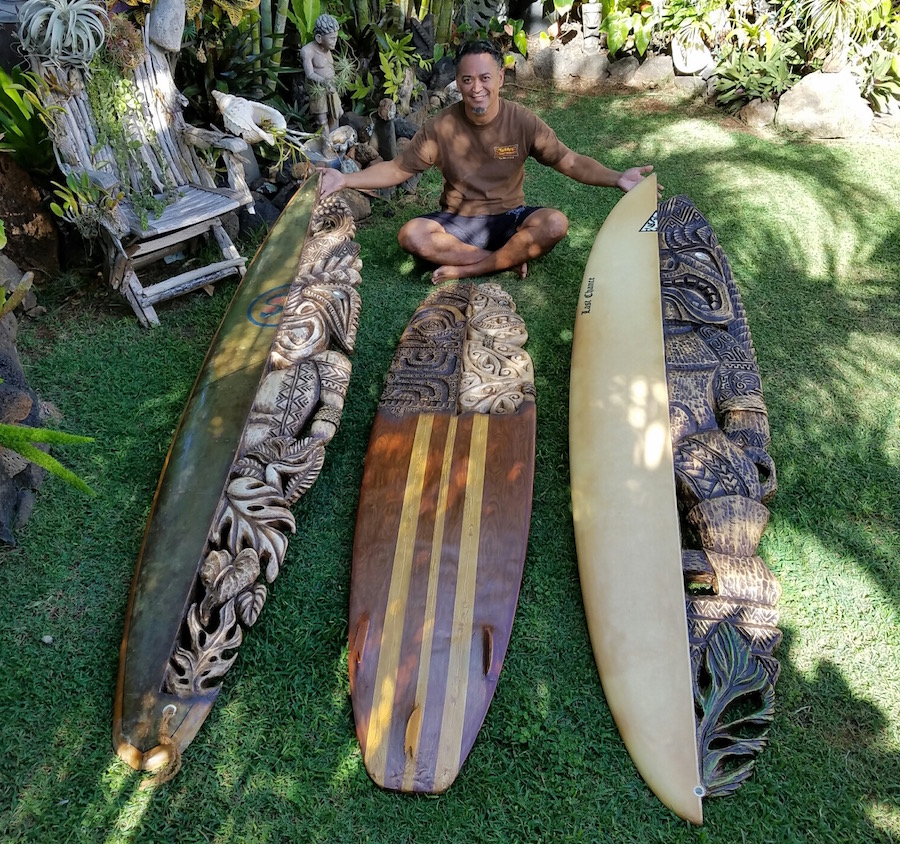 Contact Gecko to request more information on South Sea Arts recycled surfboard art and carving, or book an appointment to visit the Makakilo gallery.
View surfboard art releases below
---
South Pacific Dreams
**SOLD**
~ Designed and Carved by Gecko, $8,000 ~
*Shipping $500
---
---
Vintage Russ K board
~ Designed and Carved by Gecko, $10,000 ~
SOLD (from Ko Olina Gallery)
Purchased by LA screenwriter Thomas Pa'a Sibbett
Another beautifully carved surfboard from South Sea Arts' vintage Russ K series. Standing 10-feet tall, the board will make a statement in any room of your home. The work is currently available for viewing, and sale, in the Ko Olina Gallery near Disney Aulani and Four Seasons Resort.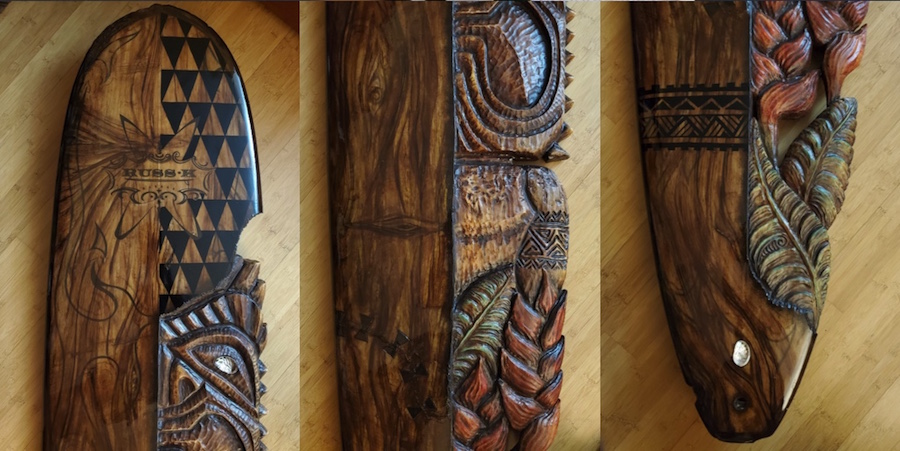 ---
---
Vintage Board – Polynesian Engravings w/Wood Design
~ Designed and Carved by Gecko, $21,000 ~
Displays horizontal and comes with holders
This exquisite board boasts meticulous carvings (see images below) conveying a contemporary Tahitian and Maori design which has been blended into a classic wood-striping design on the bottom half. Hundreds of hours went into the creation of this work of art, and its new owner will enjoy it for many years to come. The original board has glassed-on fins and is foam-based, making it sturdy yet lightweight enough to hang on the wall of a personal gallery, hallway, or den.
Available
Contact Gecko at [email protected] to inquire about purchase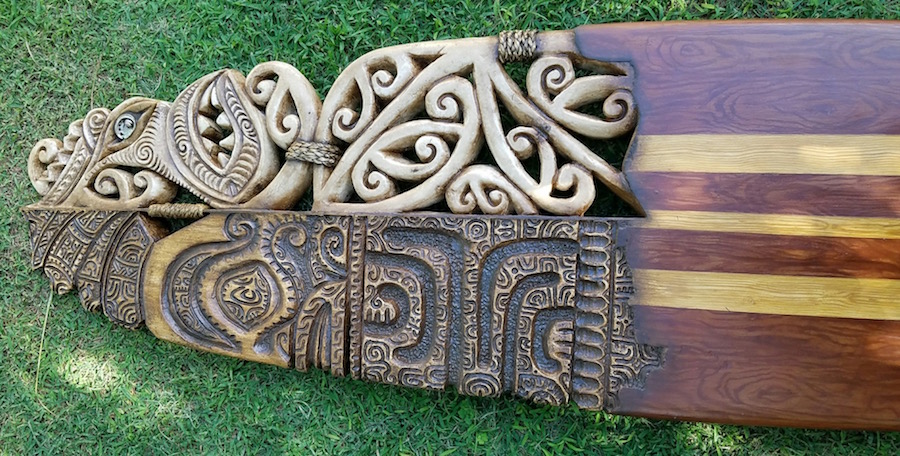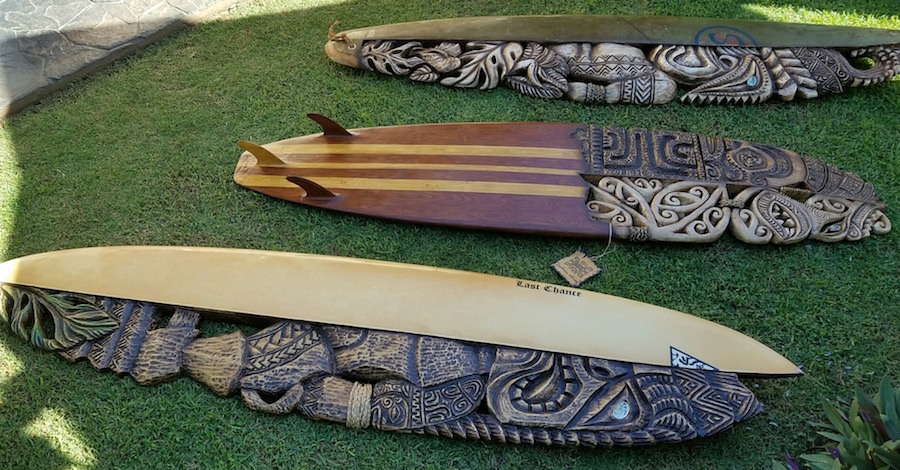 ---
---
Vintage "Last Chance" Revival – Client Commission 
~ Designed and Carved by Gecko, $8000 ~
SOLD (commission)
Contact Gecko at [email protected] for custom orders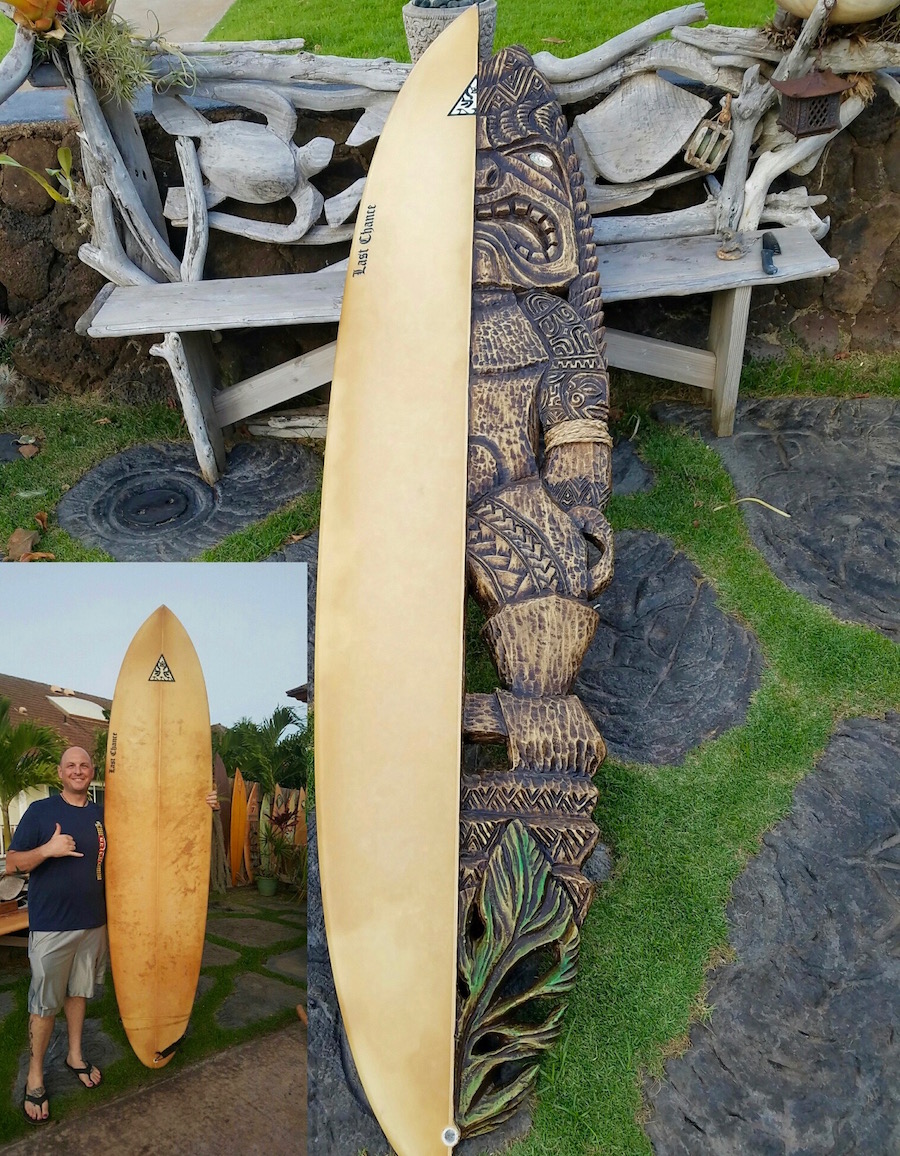 ---
---
Vintage Russ K board signed by shaper George Ku
~ Designed and Carved by Gecko, $7,700 ~
This reimagining of a vintage Russ K serves as the perfect example of how Gecko preserves the history, and mana, of a surfboard. The original signature of the board's shaper (George Ku) along with the dings and subtle cracks remain, keeping the stories told by the vessel intact. Gecko uncovers these stories as he carves, sculpts, and brings out the beauty within the fiberglass to complete the circle of life of the board.
This Russ K surfboard was displayed within Haleiwa Town's Beach House restaurant on Kamehameha Highway, where it was discovered by a patron who felt an immediate connection to the work. The guest made an offer on the surfboard sculpture and it now hangs within his home. Circle of life…indeed.
SOLD
Contact Gecko at [email protected] for custom orders
---
---
Board for Tiki Oasis 2018
~ Designed and Carved by Gecko ~
This special board was rescued, designed, carved, and finished for presentation (and sale) at Tiki Oasis 2018 (San Diego CA).
SOLD
Contact Gecko at [email protected] for custom orders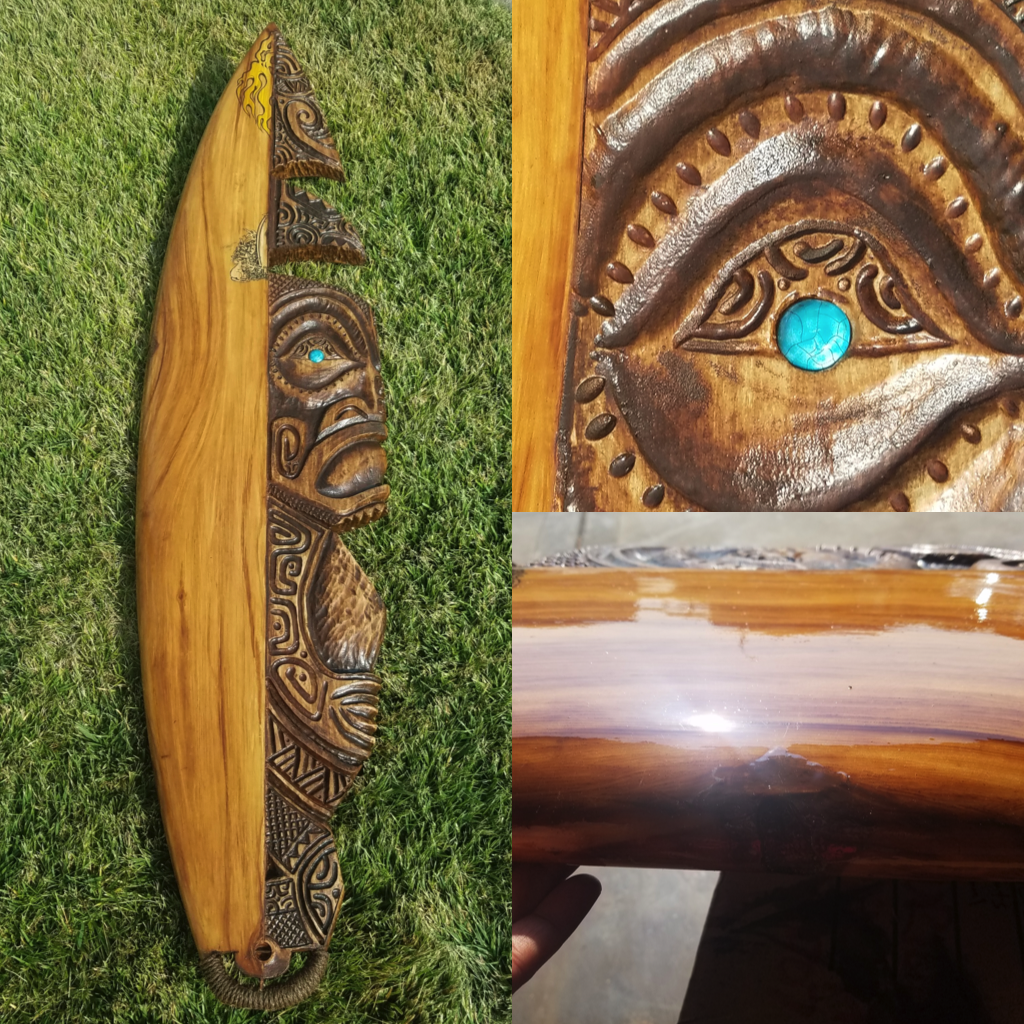 ---
---
Honu Sunset
**SOLD**
~ Designed and Carved by Gecko, $5,500 ~
---
---
Mokoli'i 
**SOLD**
~ Designed and Carved by Gecko, $9,500 ~
---
---
The Reef 
**SOLD**
~ Designed and Carved by Gecko, $7,500 ~
---
---
Honu
**SOLD**
~ Designed and Carved by Gecko, $10,000 ~
---
---
Honu Tatau
**SOLD**
~ Designed and Carved by Gecko, $9,500 ~
---
---